Am I bothered? Am I bothered though? I ain't doing nothing cause I ain't bothered!
As a professional carer, these words would never cross your lips. Bothered? Of course, you're bothered about the care you provide and the people you help.
Still, you might have a little smile if you remember that catchphrase as uttered by the character Lauren Cooper, created by comedian Catherine Tate.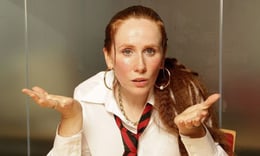 Of course, the provision of care is no laughing matter. It requires you to use a wide range of skills as you carry out the valuable role of helping people with a wide range of emotional and physical needs.
However, to ask the question again: "Are you bothered?" We know you care deeply about care. But, to question a little more deeply:
Are you bothered enough about yourself?

Are you coping with stresses and pressures that sometimes go with your job?

Do you know how to recognise when you're being affected?

Are you aware of how to gain support when it's required?
The point is that YOU MATTER, too!
And you can only be an effective carer if you take care of yourself. That's why we provide you with the means to access:
An experienced point of contact to oversee your development

Support networks and forums

Members of an approachable HR team

Counselling advice; for matters such as bereavement
We also support your learning to enable specialist expertise in your chosen area such as dementia or learning disabilities.
Coping with care work
You may also be interested in our e-book "A Care Worker's Guide to Coping with Care Work". It contains a range of information and advice around the different areas that can prove to be challenging for home care workers.
In the book's forward, our Head Office manager, Sharon Evans, says: "Home care workers shouldn't have to feel like they're fending for themselves. But, in some situations, they often do.
"We show you how to effectively and methodically tackle stress and, as a result, lead the fulfilling career you deserve.
"We're here to help you know that your hard work does not go unappreciated or unrecognised – you matter as well!"
Client communication barriers
One of the areas covered within the e-book is how to break down client communication barriers. We all know about the importance of communication, especially when the focus is on care. But sometimes it can present difficulties. Therefore, the guidance we have included covers:
How to be an active listener.

Being mindful of body language and physical contact.

Environments that encourage interaction.

Cultural and religious considerations.

Finding the comfort zone.
You can access the contents of "A Care Worker's Guide to Coping with Home Care" here: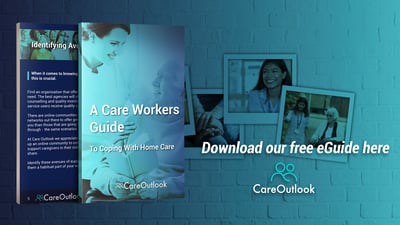 We also look at coping with the emotional demands of home care work. We understand you are passionate about caring for others and want to give the best quality of care possible. But, after all, you are human, too, and all that emotion can take its toll!
Signs of a problem
You may not even recognise there is an issue. When thinking about yourself, do these signs sound familiar:
Lack of motivation

Extra sensitive to criticism

Negative thinking

No time for relaxation or pleasurable activities.

Poor time management or lower standards of work.

Self-neglect or a change in appearance.
We all get down from time to time but, if you've ticked a few of these boxes, you may be suffering from despondency. In the e-book, you will find information about the causes of emotional stress and how to develop habits that will help lift the day-to-day blues.
And please remember we recognise – and support – the care you need to provide the care needed by others.
Are you bothered? Are you bothered though? Do ask yourself the questions … as you matter, too!